Since I'm still not finished with SC2, I will do a quick review of a small PC game I'm quite fond of, StepMania. This a free rhythm game available for download
here
. If you're not familiar, it's pretty much Dance Dance Revolution for your computer, and if you're not familiar with DDR, shame on you.
This is ironically a good game for casual gamers. There are many difficulty levels so new players can get the hang of it. It is also easy to acquire and start playing. Since there is no "game progress" or "endgame" like in most video games, people usually only play it for fun and/or to waste some time. It does not mean you can't get addicted to it though :]
Set up
Downloading the game alone is not enough to play. You also need to get some songs for it. There are various places where you can find them and you can even buy a CD from the website if you're interested. You can play with your keyboard or, for the advanced players, you can buy and install an actual pad and play it like real DDR. It is recommended to have a PC with decent specs, since lag will definitely make you lose in this game. WARNING: If you DO get a pad, do not drink and play this game. For some reason these two really don't go well together. I've witnessed some incidents where people seemed at least two times more drunk than they should because they played DDR while drinking.
It was freaking hilarious though.
Menu
As you can see, this game has very flashy colors and many songs are pretty girly. HOWEVER, it does not make you gay if you're a guy and you love this game. Don't let our society's standards get into the way of your gaming! Moving on, from the menu you can see songs, difficulty level, and a timer to hurry the indecisive ones. Before even getting to the menu though, the game will need to load up all the songs you have and that can be pretty annoying on a slow PC.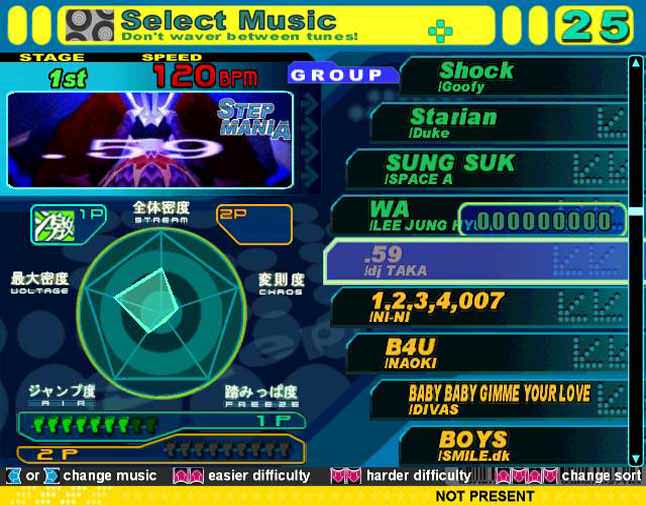 Features and Gameplay
There are various options you can activate to spice up your games. These include: lyrics, custom themes and a dancing character, among other things. You can also play online against other people (recent update) or with a friend on the same keyboard. Since this is a free game and depends on support from volunteering contributors, the songs are mostly made by other players and some of them can be pretty badly done (bad arrow sync with the actual music) so make sure to check out ratings of songs before you download them.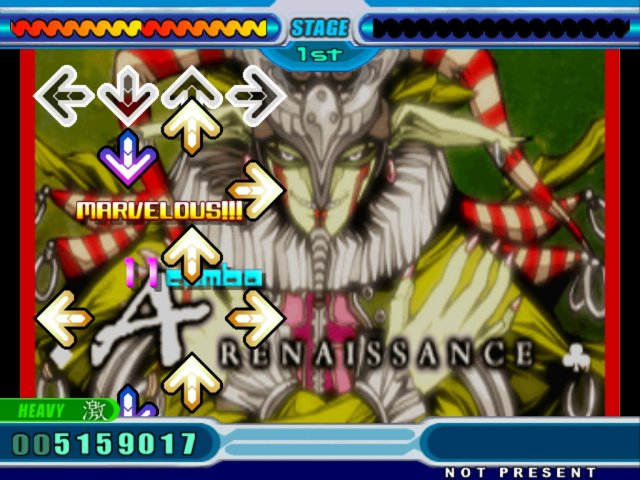 There is also something called Flash Flash Revolution (which has been down for a long time but is now back) which is an alternative DDR-Wannabe game available online and requires no download or setup. However, it functions differently and doesn't offer as many features as StepMania. Nonetheless, it is almost as good and you can check it out
here
.